Closed during the weeks 29 and 30.
We will handle your order as soon as possible after 30 July.
Silfverberg Knitting Design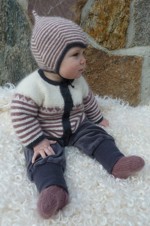 Silfverberg Designs has been designing knitwear for three generation. Our knitting patterns and knitting kits are now available at AngoraGarnet's farm shop and E-shop.

I was taught to knit as a child by my mother. Today, nothing gives me more satisfaction than seeing my own children actively involved in creating new designs. We have fun together. We indulge our curiosity, experiment, and share the pleasure of knitting with each other.

The joy of creating and giving life to new designs is almost like the joy of becoming a mother. It's about love. Love for each other and for the knitting we create.

We hope our designs will give you a taste of the joy we have experienced creating them.

Why not invite your mother or your daughter or son to join you? Share the joy of creating with your own hands. All you need is two sticks and some yarn!

We can help you if you want to learn to knit. Our knitting cafe is a good place to start!

I am often asked: "how do you find so much time to knit?" The answer is simple: I take advantage of the little minutes here and there that present themselves.

You can knit in the car (let Dad drive), in the bus, on the train, in the waiting room at the dentist, or at the dining table when the kids need a little extra time to finish eating in peace. I knit while I wait for the potatoes to boil, and I knit in front of the TV of course. I even knitted my way through childbirth. The rhythmic movement of the needles creates an inner peace and harmony, stimulates the creative side of the brain, and triggers positive thoughts that can help solve life's worries and problems. It is a kind of therapy and meditation.

And knitting with angora is even more special ♥
I love to play with different techniques, colors, and shapes.

Sometimes my ideas are simple both in design and technique; sometimes they are more difficult, with complex patterns and numerous colors.

Inspiration can come from just about anything, something concrete like a plant, flower or animal. Sometimes it starts with a feeling, sometimes it is inspired by another culture, or a symbol, or a geometric shape.

Unfortunately there are not enough hours in the day for me to realize every idea. The process from idea to finished product, to the careful attention needed to develop a pattern takes time and patience.

Try it! It's not that hard. Find inspiration in our gallery or visit our E-Shop.