ANNIVERSARY
Bohus Stickning 1939-1969 Bohus Stickning the Revival 1999-2019
This book; published by Bohusläns museum 4 years ago, is still as popular!
"Bohus Stickning på Nytt - The Revival" or simply "THE BOOK" as I call it :)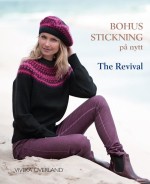 September 2015, Bohusläns museum published a book about Bohus Stickning.
The book initially tells the beautiful story about Bohus Knitting 1939-1969, but for the most part it describes the work of recreating yarn and kits after original Bohus Stickning. This work was started in 1999 by Solveig Gustafsson, company Solsilke in collaboration with Bohuslän museum and was handed over to Pernille Silfverberg, AngoraGarnet in the beginning of 2014.
In the book you can follow the process from breeding angora rabbit to the spinning service of the yarn at a small spinning mill in Denmark and recreating kits. The book contains lots of inspirational pictures and even some knitting instructions and patterncharts for some of the recreated models after original Bohus Stickning.
This book I simply call "The Book" since it is an absolute must and deserves the honorary place in the bookshelf of every yarn-lover.

It is important to remember when using the knitting instructions and patterncharts in the book that only when using yarn in the correct colors and with the right yarn structure for the current pattern you can with good conscience call your knitted work "after original Bohus Stickning".
Yarn for the models for wich there is instructions in the book, can be purchased in the e-shop under the tab Bohus Stickning kits & garn / yarn
Click on the model and "select a variant" then the pattern yarns can be ordered in 20 gram skeins and 100 gram skeins in terms of the main colors in angora / merino. Patterned yarns in 100% wool are offered in 25 gram skeins.
However, buying a kit will be cheaper as they contain the right amount of yarn calculated for the model in question.
The book can be purchased in the webbshop under the tab Böcker / books
Bohus Stickning in the future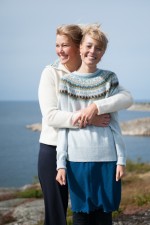 This year is the sixth year I have been responsible for the production of knitting kits for Bohus Stickning.
It turned out not to be possible to carry out the assignment as a hobby business. In 2016, I had to resign as an employee to respond to the increasing demand for angorayarn and kits. It has been a great challenge to find a balance and keep the right number of rabbits corresponding to the demand for yarn. The biggest challenge has been to get such profitability that I have been able to defend that in 2016, let go of the safety as an employee and devote all of my time to the care of rabbits, dyeing of yarn and making knitting kits.
In early 2017, I and the Bohuslän Museum laid a three-year plan to adjust the price level. As of June 1, 2019, we take the final step in this process, which means a price increase of about 13% on models with angora / merino yarn. We hope that our loyal customers and ambassadors for Bohus Stickning have an understanding of the necessary price increase for the unique craft that is behind every knit kit and recreated garment.
Keeping this beautiful heritage alive is a very time-consuming job. The whole process from breeding angora rabbits to a ready-to-knit kit today requires more than I can handle by myself. I hope I can continue with this unique craft.
Prices per June 1st 2019.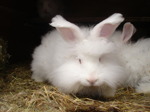 I am very happy and proud to announce that I have been authorized to continue the work of creating Bohus Stickning yarn kits that Solveig Gustafsson began in 1999. During 15 years, Solveig recreated more than 50 patterns and all the Bohus Stickning colors for these and, even using her dye formulas, it's no small job I have in front of me! The right to the name Bohus Stickning continues to be owned jointly by Bohusläns Museum and Solveig Gustafsson.

The collection of recreated models from original Bohus Stickning garments is based on Solveig's close study of original charts and careful examination of original pieces in museums and private collections. This painstaking was necessary to ensure that the resulting patterns and yarns would match the original Bohus Stickning designs as closely as possible.

After Solveig retired from her artisanal production of knitting kits in 2013, I have been entrusted to continue the work of producing Bohus Stickning kits. Hand knitting enthusiasts worldwide can thus continue to knit beautiful sweaters, hats, berets and wrist warmers based on original Bohus Stickning designs.

It is with great enthusiasm and humility I am undertaking the complex work of learning to hand dye the yarn into the many colors required for the designs. In order to ensure that everything is correct and as close to original garments as possible, I stay in frequent contact with Solveig.

The yarn I will be using in the kits is spun at the same family owned spinning mill in Denmark where Solveig had her yarns spun. The only difference is that the vast majority of angora wool now comes from my own rabbits, supplemented only when necessary with angora wool from other small producers in Bohuslän who treat their rabbits well and cut and sort the wool in the way we desire.

More information about the angora rabbits, their haircut and how the wool is handled you will find under "Yarn production" and "Rabbits". Please see also our information site "About angora"
Bohus Stickning 1939 - 1969
Emma Jacobsson organized Bohus Stickning in 1939 to provide relief work for women in the economically depressed Bohuslan district. Bohus knitting became world famous for producing designs of the highest quality, typically made from angora wool. Jacobsson closed Bohus Stickning in 1969. The Swedish economy had improved; women had more options for better paying work; the designs themselves had become so complex that many women found them too difficult to knit; and the popularity of cheaper, synthetic materials was revolutionizing the market.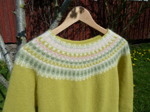 There was no tradition of knitting in Bohuslans to build on when Emma Jacobsson founded Bohus Stickning in 1939. Wife of Bohuslan's Governor Malte Jacobsson, Emma was a talented designer who over the years hired several professional artists to help her design and create patterns. Among them were Vera Bjurstrom, Anna-Lisa Mannheimer Lunn, Ulla E:son Bodin, Karin Ivarsson, Annika Malmstrom-Bladini, and Kerstin Olson.

The Bohus collection was only available as ready-made garments in a few select stores in Sweden and abroad. Patterns and yarns were not for sale. Only after the business closed were yarns and patterns made available to knitting enthusiasts.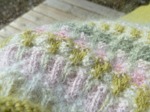 The secret to Bohus Stickning's success was exquisite designs created by the best textile artists using yarn of the highest quality. The business was based in Gothenburg, and the yarns and patterns were distributed to knitters who lived in Northern Bohuslan. Finished garments were returned to Gothenburg for inspection before being shipped to reputable firms in major cities. Knitting instruction was required of all women who participated. It not only guaranteed the quality of the finished products but built a strong social network among the knitters. One of the benefits of this work was a week-long holiday away from home—a concept that was unknown to rural women at the time.

The quality of Bohus knitwear attracted attention far beyond Sweden's borders. Upscale department stores in the U.S., Canada, Switzerland, France, and Denmark sold these coveted garments.

The Bohuslans Museum collection contains more than 100 garments and many test patterns. A selection of their collection is on permanent exhibit.
Bohus Knitting - from relief work to worldwide success
The history of Bohus Knitting, which began as relief work and developed into textile produciton of the highest quality, has been told many times in publications, media and exhibitions. By any measure, Emma Jacobsson was its guiding star and driving force.

Emma was an Austrian Jew, trained as a botanist and art historian, and it was while studying in Berlin that she met her future husband, philosophy student Malte Jacobsson, later Governor of Gothenburg and Bohus. As the Governor's wife, Emma gave up her academic career, but maintained her scientific and aesthetic interests through friendships with Estrid Ericsson - Swedish Tenn's founder, the architect Josef Frank, the nuclear physicist Lise Meitner, and artists such as Tor and Vera Bjurström. But it was in her capacity as the governor's wife that Bohus Stickning took root. Two women, Augusta Teng and Helga Karlsson from Lintulahti on Härnäset in Bohuslän, came to her in 1936 to ask whether she could provide paid work that rural women could produce at home. Unemployment was prevalent among local stonemasons, and their families were in need of relief.

Emma wanted to help, and her good friend Clara Cavallin arranged courses for the women. They tried a variety of home projects: dolls, Christmas decorations, and small knitted items. But it was knitwear that took hold. In the fall of 1939 the association of Bohus Knitting was established and a board was appointed. Knitting classes were given in Lintulahti, Brodalen, Heestrand and other locations in central and northern Bohuslän. Delegates were appointed to represent the home knitters at the Bohus Knitting Center established at the governor's residence in Gothenburg.

Emma Jacobsson herself and her friends Vera Bjurström and Anna-Lisa Mannheimer Lunn designed the patterns, to which Emma gave cultured and poetic names. It was the beauty and originality of the patterns as well as the quality of materials and labor that by the early 1940s brought ​​Bohus Knitting to worldwide attention.
Foton i bildspelet: av Solveig Gustafsson
"Bohus Stickning - The Revival"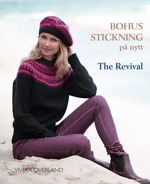 In September 2015 Bohusläns museums published a new book about Bohus Stickning.
It is in Swedish and English, 152 pages, Danish bands and lavishly illustrated. The book containing manufacturing 14 Bohus Knitting patterns including several not previously been published! You can buy it in our webb shop.